No degree is required but HIGHLY recommended
It's true! You can walk right out of high school, right into a court reporting program, and then right into the field. No degree is required. However, see the pic below...
Put on your legalese glasses for a moment. Here in California according to BUSINESS AND PROFESSIONS CODE: SECTION 8020-8027.5:
8020. Any person over the age of 18 years, who has not committed any acts or crimes constituting grounds for the denial of licensure under Sections 480, 8025, and 8025.1, who has a high school education or its equivalent as determined by the board, and who has satisfactorily passed an examination under any regulations that the board may prescribe, shall be entitled to a certificate and shall be styled and known as a certified shorthand reporter. No person shall be admitted to the examination without first presenting satisfactory evidence to the board that the applicant has obtained one of the following:
(a) One year of experience in making verbatim records of depositions, arbitrations, hearings, or judicial or related proceedings by means of written symbols or abbreviations in shorthand or machine shorthand writing and transcribing these records.
(b) A verified certificate of satisfactory completion of a prescribed course of study in a recognized court reporting school or a certificate from the school that evidences an equivalent proficiency and the ability to make a verbatim record of material dictated in accordance with regulations adopted by the board contained in Title 16 of the California Code of Regulations.
(c) A certificate from the National Court Reporters Association demonstrating proficiency in machine shorthand reporting.
(d) A passing grade on the California state hearing reporters examination.
(e) A valid certified shorthand reporters certificate or license to practice shorthand reporting issued by a state other than California whose requirements and licensing examination are substantially the same as those in California.
The above basically says the following things you should be aware of before going for a California CSR license:
No minors allowed (Pheeeew! 18+ only please)
No convicted criminals allowed (But if you've never been caught, you're in!)
Must have a high school education (Oxymoron not intended)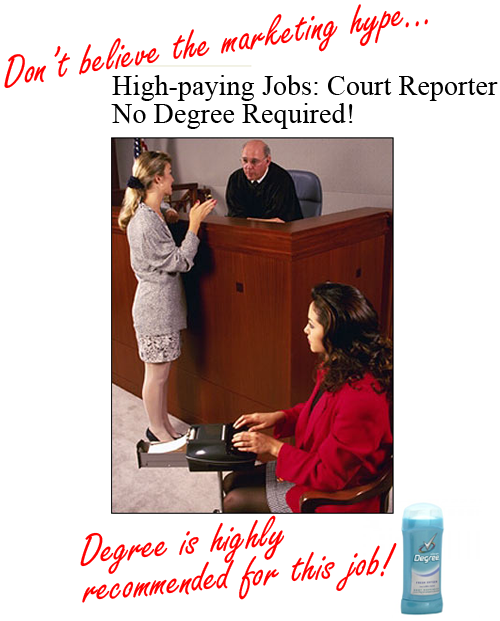 Friday, March 25, 2011