Where do old steno machines go to die?
My old steno machine, the one I used throughout my latter years in school as well as passed the CSR exam on -- THAT ONE -- is now a relic in my closet. It weighs about 150 lbs. The batteries are no longer available, I'm told. I hate to get rid of it (in a way), but I hate lugging around junk forever even more.
Any thoughts as to what I should do with my old Xscribe StenoRAM III+ ?
Donate it to science?
Donate it to a steno museum?
Donate it to my landfill?
Gut it and turn it into a flower pot?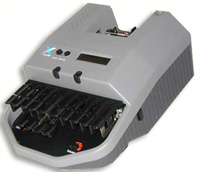 Help me out, Everyone!
Tuesday, November 17, 2009