This morning`s depo
Whoah...

We're in week 5 of California's shut down. How's it going?

For work you're undoubtedly doing what you can but I'm sure you'd rather be closing more files -- rather than being stuck in place; right?

So how about a glimmer of good news!

The good news is despite this quarantine situation -- there is a workable solution right now.

You can do your depositions remotely which means you can move towards closing those files sooner.

Remote depositions are here. And this is how some of our clients are unsticking this stuck situation:

- Remote depositions are legal. California Rules of Court April 6, 2020. Read page 29
- Remote depositions are safe. We use password protection and randomly generated meeting IDs per Zoom's safety protocols. Watch video
- Remote depositions are flexible. We use Zoom, WebEx or any platform you prefer upon request.
- Remote depositions are cost effective. In addition to fewer mileage fees, we have waived our agency costs for remote depositions.
- Remote depositions are easy. As needed, our bilingual in-house IT department troubleshoots every remote deposition attendee beforehand. Read our guide

But are people in Comp really doing remote depositions?

Yes! Here is a graph showing our numbers of depositions that have converted from in-person over to remote. The graph grows from zero on March 24 to 69 today.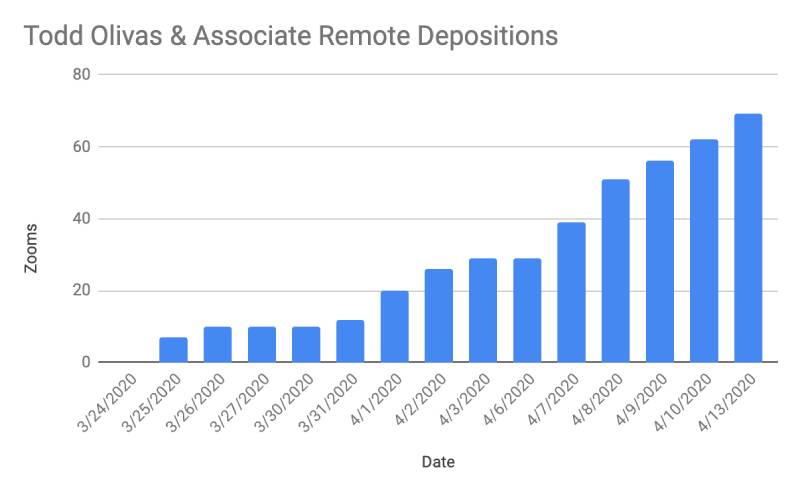 So, if you'd like to jump on a quick Zoom training with me and my team, email me at on this site or call me: (888) 566-0253.

I guarantee that in less than 7 minutes -- you'll see how easy it is and a whole new avenue of servicing your clients via remote depositions will open right up.

Please be safe and well!

~ Todd Olivas

P.S. My blog has a bunch of info -- including a remote depo guide, deposition notice verbiage, and best practices, etc. Check it out: http://www.toddolivas.com/blog/Remote-Depositions.asp
Tuesday, April 14, 2020